Spotlight: Conveyor Automation at Sadler's Smokehouse
About Sadler's Smokehouse
Sadler's Smokehouse is a family-owned manufacturer and marketer of branded and private-label meat and food products, headquartered in Henderson, Texas. Sadler's authentic premium pit-smoked meats, side dishes, and other barbecue-related items are distributed nationwide through major grocery retailers, food service distributors, national chain restaurants, and other branded food processors. Founded in 1948 by Harold Sadler, the company motto still reflects Mr. Sadler's founding belief that perfection takes time and there is no compromising delicious, slow-smoked flavor. In 2020, global branded food company Hormel Foods Corporation acquired Sadler's Smokehouse for $270 million.
Business Need
Sadler's Smokehouse was looking to improve automation, throughput, and reliability with its product labeling. Additionally, there was a need for automation to reduce personnel required to run lines as well as the overall labeling costs Specific business objectives included:
Maintain label printing accuracy

Improve label printing speed and production throughput

Reduce personnel required to run lines through automation

Reduce overall costs for labeling products
Solution – Conveyor Automation
To achieve the desired throughput of 60 products per minute, Vertical Systems' implemented their Conveyor Automation solution with customizations specific to Sadler's Smokehouse. The use of scales, printers, label applications, and Vertical Systems' workflow automation software helped optimize performance and reliability.
Digital tablets and kiosks allow Sadler's Smokehouse team members to easily manage and monitor manufacturing jobs through dashboards and reports. All product activities (metal detection, weighing, labeling, etc.) are logged into a centralized database for reporting and integration with other systems.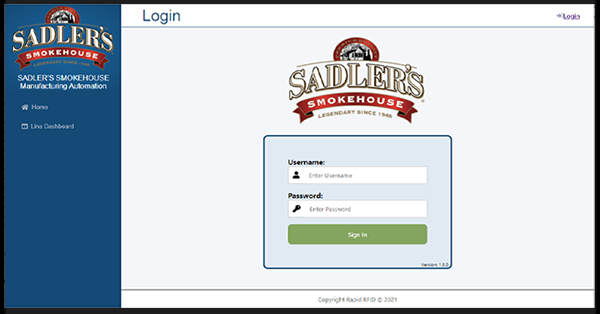 Technology
Bartender Label Printing

Cognex Imagers (DataMan Software)

Metal Detectors

Rice Lake Weighing Systems – 1280 Indicators

SATO print & apply labelers

Vertical Systems Workflow Automation Software
Results
Sadler's Smokehouse has achieved visibility into its entire labeling process as products are validated, weighed, labeled, packed, and efficiently tracked as they are placed on and transported by pallets. Throughput has increased as they are boxing and labeling 60 products per minute. Costs have been lowered through a reduction of required personnel via automation and efficiencies gained through the automated labeling process.
Conclusion
Sadler's Smokehouse improved automation, throughput, and reliability of products labeled through automated processes with the implementation of the Vertical Systems Conveyor Automation solution. Positive outcomes were achieved through reduced personnel, manufacturing efficiency, and a simplified management and reporting interface.

Vertical Systems is a software company with core offerings centered around RFID technologies. VSI's RAPID RFID product suite offers a wide range of solutions to improve asset visibility and reduce labor costs.